Marketing & Design Services
Much More than just a fancy brochure
You don't just need a pretty web site or cool brochures. You need marketing that improves your bottom line. With cutting-edge marketing and design services, Serfwerks provides you with the marketing resources and acumen to ensure your success. Not only de we help you develop the most effective business strategies, but we also ensure that your marketing efforts produce a return on your investment.
"Authentic marketing is the art of identifying and understanding customer needs and creating solutions that deliver satisfaction to the customers, profits to the producers, and benefits for the stakeholders."
— Philip Kotler
Marketing As An Investment, Not a cost center
Marketing is an investment that should pay dividends. Where traditional marketing & advertising agencies are primarily concerned primarily with sheer creativity, our unique methods and processes ensure that not only do you get the best creative, but you also you get results from your marketing efforts. We help you understand whether or not your marketing is working for you, then how to significantly improve it.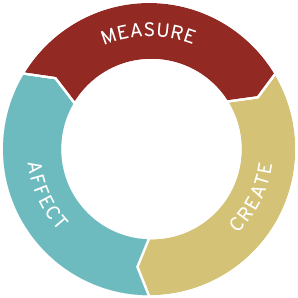 Our proprietary Measure. Create. Affect. methodology is the science behind your marketing strategy. By establishing a proper understanding your current marketing performance, the customer mindset and the competitive environment (Measure), marketing campaigns can not only be creative, but can also be far more effective (Create). Monitoring your marketing's performance then empowers you to make continual optimizations to achieve even better results for your marketing investment (Affect).
Strategic Marketing services include:
Market Research
Go-to-market Strategy
Qualitative Marketing Performance Analysis
Key Performance Indicator Analysis
Customer Perception Analysis
Strategic Positioning Development
SWOT Competitive Analysis
Marketing Strategy Development
How You Say It Is As Important As What You Say
You have something important to say and we can help you say it well. From Web and print to advertising and multimedia, our team of experienced designers have tackled virtually every creative medium.
Our cutting-edge graphic design services help organizations succeed because instead of just mocking up a few creative ideas, we follow an objective-driven creative process that gets results. One of our clients recently acquired an account after their client compared their Web site to that of larger competitor. The customer said simply, "You looked more trustworthy."
Graphic Design services include:
Logos
Corporate Identity & Branding
Company Naming
Brochures, Collateral
Web, Multimedia eCommerce
eMail Marketing
Advertising & Media Planning
Catalogs, Editorial
Invitations & Announcements
Point-of-Purchase
Signage/Environmental Graphics
Packaging
Apparel
Copy Writing
Creative Consultation
Establish Your Online Presence
Never in the history of the world has there been such a marketing opportunity as that created by the Internet. Rather than simply creating a digital version of your brochure, Serfwerks helps you take full advantage of the digital revolution through effective Web sites and digital marketing strategies. From use of social media to cost-saving e-Newsletters, we help you transform your brand into a global force. Furthermore, we tie your web site into an essential piece of your marketing strategy to ensure that you can monitor how your web site affects the rest of your marketing and sales funnel.
Website Development services include:
WordPress
HTML
CSS
Javascript
PHP
E-commerce
Magento
Responsive Design
Navigational Hierarchy
Web Applications/SaaS
CRM
Online Lead Generation
Website Hosting and Email
Search Engine Optimization (SEO)
Pay-per-click (PPC) Advertising
Social Media
HTML E-mail
Traffic/Performance Analytics