Measure. Create. Affect.
The Science of Marketing
Marketing is an investment that should pay dividends. Where traditional marketing & advertising agencies are primarily concerned with getting your campaigns or projects, Serfwerks' proprietary methodology ensures that you get results from your marketing efforts. We help you understand whether or not your marketing is working for you, then we not only improve your marketing performance, we significantly improve it.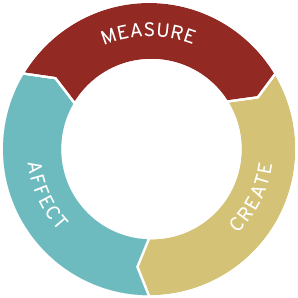 "Today, marketers must understand their addressable markets quantitatively. Marketers must quantify the value of products, customers, and distribution channel."
—Farris, et. al., Marketing Metrics
1. Measure
Our "Measure" stage quantifies your marketing performance by establishing marketing's affect on your key performance indicators (KPIs). Our marketing performance analysis identifies with 95% accuracy when your marketing efforts are impacting your bottom line. We also help you understand the mindset of your target audience and your competitive environment. You'll find that the analysis helps you focus your marketing efforts on your real marketing problems, saving you thousands.
The "Measure" stage consists of the following:
Marketing Performance Analysis
Marketing KPI Analysis
Internal Positioning Gap Review
Marketing Effectiveness Review
Competitive SWOT Analysis
Target Audience Positioning Review
Customer Segmentation
Trade Area Analysis
Return on Marketing Investment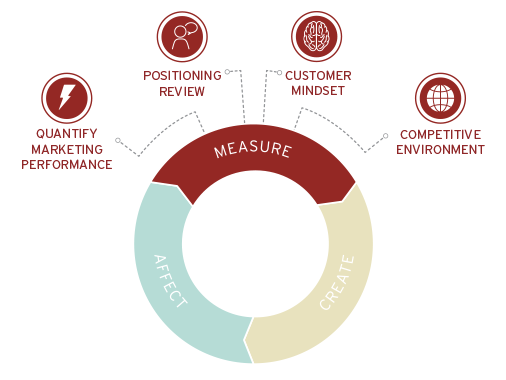 2. Create
The "Create" stage develops marketing strategies and collateral that engage your target audience in innovative and creative ways while creating salient differentiation from your competition. From strategic positioning and messaging development to tactical implementation in collateral and web sites, we help you develop the strategies and marketing materials that take your business to the next level.
The "Create" stage includes the following:
Positioning Strategy Development
Messaging Strategy Implementation
Tactical Implementation
Thought Leadership
Graphic Design
Collateral Development
Website Development
Brochures
Advertising
Brand Advocacy
Signage/Point-of-purchase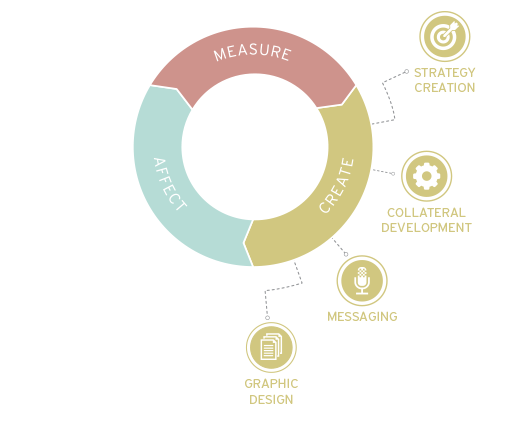 3. Affect
The "Affect" stage measures the effectiveness of marketing efforts based upon the new strategy to optimize marketing results. The optimization facilitates an increase in marketing results without increasing marketing spending.
"Affect" consists of the following:
Marketing Performance Management
Media Planning
Advertising Placement
Printing & Fulfillment
Ongoing Market Research
Campaign Execution
Strategic Initiative Implementation
Vendor Management
Advisory Board Creation and Management