Marketing As An Investment, Not a cost center
Marketing is an investment that should pay dividends. Where traditional marketing & advertising agencies are primarily concerned primarily with sheer creativity, our unique methods and processes ensure that not only do you get the best creative, but you also you get results from your marketing efforts. We help you understand whether or not your marketing is working for you, then how to significantly improve it.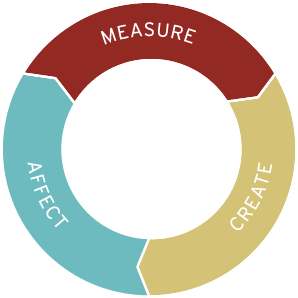 Our proprietary Measure. Create. Affect. methodology is the science behind your marketing strategy. By establishing a proper understanding your current marketing performance, the customer mindset and the competitive environment (Measure), marketing campaigns can not only be creative, but can also be far more effective (Create). Monitoring your marketing's performance then empowers you to make continual optimizations to achieve even better results for your marketing investment (Affect).
Strategic Marketing services include:
Market Research
Go-to-market Strategy
Qualitative Marketing Performance Analysis
Key Performance Indicator Analysis
Customer Perception Analysis
Strategic Positioning Development
SWOT Competitive Analysis
Marketing Strategy Development